Reading Time:
2
minutes
Inaugurated on April 6, Utopia exhibition will last for fourteen days at -1 Gallery, Adahan Istanbul Hotel. Emre Ezelli, who graduated from fine arts faculty as a sculptor, reinterprets cave paintings in Mountain Beşparmak known as Latmos in ancient times with the rusty and metallic materials. His descriptive works are full of woman, family, fertility and human, not hunting, wildlife and violence as the earlier times (France Lacroix).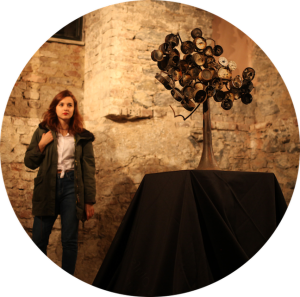 In this solo exhibition, there are few pieces from special collections like the tree of life. His aim with the work "Couples" is to illustrate the coherence of opposites and optical illusions. In the other room, the work "Community" will be waiting for you to describe the different types of worlds and the relationships between them. In the last room, a mini cave room from Latmos will welcome you. The entrance to the room is forbidden yet when you look into it, you feel a sense of being on time travel. The show is coherent with the mystical air of -1 Gallery. Dim lights of gallery gives the minimal statues chance to manifest themselves.


All in all, here is my favorite sculpture. Stay tuned for my blog post about that!